Sold
TOP OF THE WORLD – 5 Acres – APN 70602111
Payment Options
Payment Notes:
Want a different payment period? We can customize the financing term to whatever works best for you, between 6 to 72 months.
Ready to purchase this land? Click the "Reserve Now" button for any of the payment options. You will be redirected to our secure payment page to make the down payment.
Our Satisfaction Guarantee lets you buy without worries. If you change your mind for any reason, all your payments are fully refundable for 30 days after purchase.
Property Description
If you're looking to get away from it all, this is your spot! Beautiful views, incredible skies, and plenty of privacy can be yours on this gorgeous, flat 5-acre lot in Costilla County, Colorado. It's perfect for building your dream home or as an ideal weekend recreation getaway. You'll be right at the doorstep of the beautiful Sangre de Cristo mountain range, yet only a short 14 minute drive from the historic town of Fort Garland. This property gives you blue skies forever, wherever you cast your gaze. And you can't beat the price!
All photos and video are of this exact property and were taken in July 2021.
Top of the World
Right on the doorstep of the Sangre de Cristo mountains, the Top of the World subdivision certainly earns its name. The views of snow-capped mountaintops are priceless, as are the sunny days (285 days a year) and starry night skies.
Top of the World offers rural peace and solitude combined with the convenience of an ideal location in the historic San Luis Valley. Located between the towns of Fort Garland and San Luis, you will be near National Parks and Forests for hiking and biking, sparkling reservoirs for top quality fishing and boating, and herds of deer, elk, and antelope grazing in the fields.
This area offers something for everyone. Whether you choose it for your own private recreational retreat, as a place to build your next home, or just as a way to secure land of your own in the great outdoors, you will find what you're looking for at Top of the World.
Resources:
Costilla County Website – Zoning, Water, Taxes, etc. (Link)
Free Visitors Guide – Information on Hunting, Camping, Fishing, etc. (Link)
Local Attractions
Smith Reservoir – 21 mins (10 miles)
Capilla de Viejo San Acacio – 23 mins (19 miles)
Shrine of the Stations of the Cross – 16 mins (13 miles)
Mesita Hill – 37 mins (30 miles)
Rito Seco Park – 21 mins (11 miles)
Sangre de Cristo Mountains – 45 mins (28 miles)
Amarok Sailing Charters – 23 mins (18 miles)
Closest Towns
Fort Garland, Colorado 81133 – 14 mins (10 miles)
San Luis, Colorado 81152 – 16 mins (13 miles)
Alamosa, Colorado 81101 – 32 mins (38 mins)
Property Information
Address
FORT GARLAND, CO, 81133
Legal Description
T.O.W. UNIT 3 LOT 127
Features
Dimension
582 ft x 320 ft
Coordinates
37.3167, -105.3946
Zoning
Estate Residential (ER)
Additional Property Details:
Power:
Work with public power utility to extend the existing power lines to the property. Common alternatives are solar, wind, or generator.
Water
Would be a well, or water haul + holding tank (or other similar option.)
Sewer
Would be by septic system
Zoning
Vacant Land/Residential – Site built home 600sqft min, manufactured homes are acceptable. Camp for 14 days (every 3 months); long term camping/rv permit available (60 days – with up to 3 renewals, $200 fee – septic & water required); Temporary RV Occupancy permit available ($250 fee – good for 90 days at a time while building, renew for up to 18 months). Please contact Costilla County Planning & Zoning at ‭(719) 937-7668‬ for additional information.
Property Boundaries (Lat/Long Coordinates)
37.3159, -105.3941
37.3175, -105.3941
37.3175, -105.3952
37.3159, -105.3952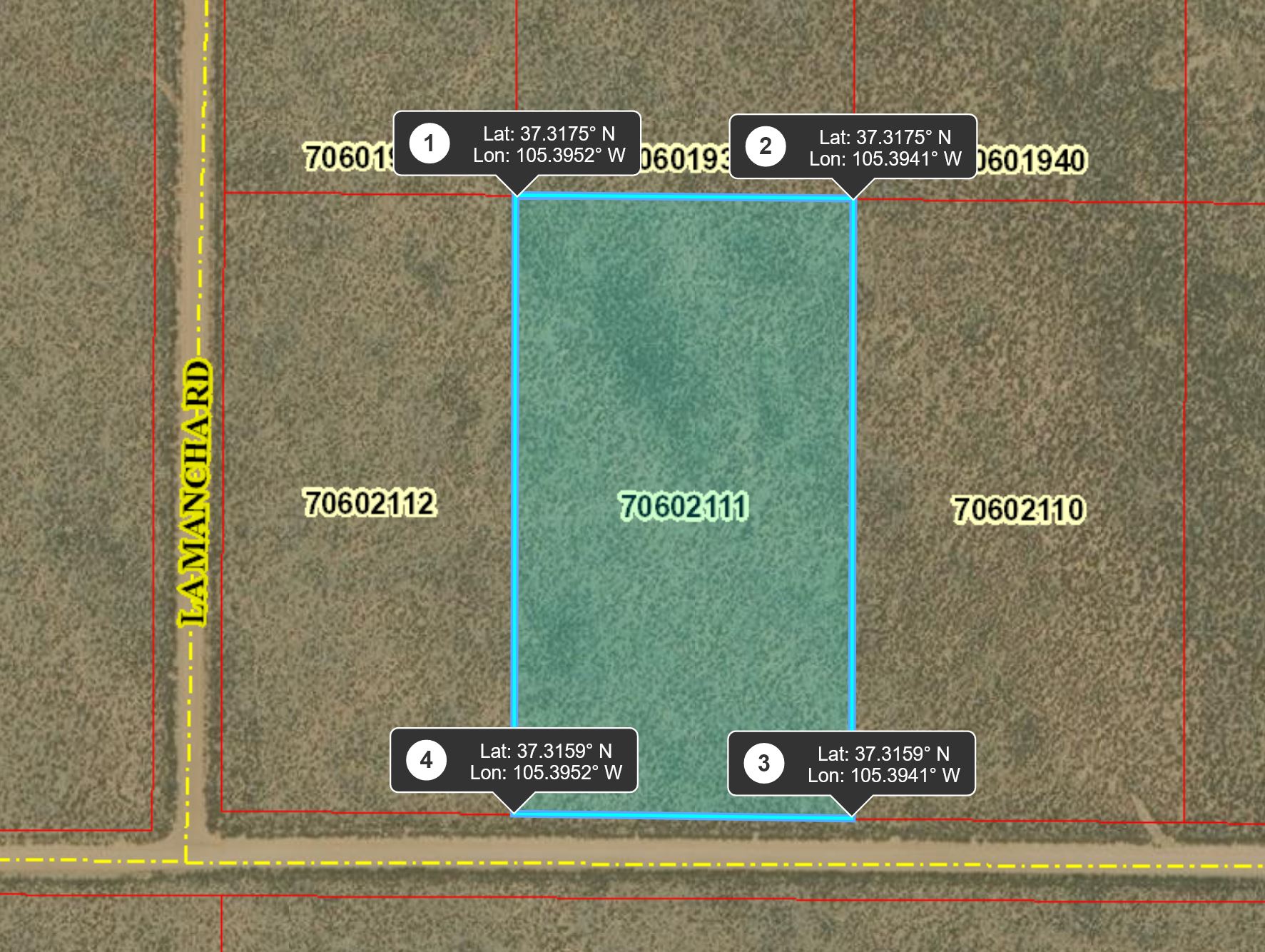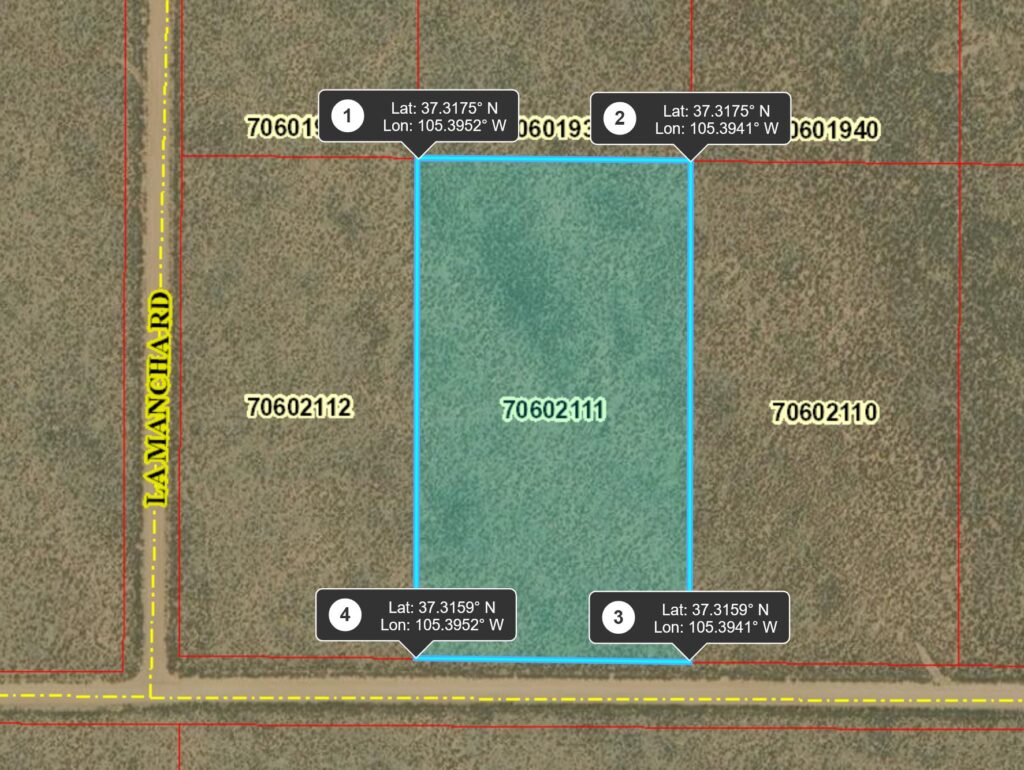 Location
Purchase Information
Clear Title
Clear and marketable title is guaranteed with every property we sell. No back taxes, liens or outstanding HOA dues.
Financing
Annual Taxes and a $2/mo loan service fee are included in the monthly payment when financed. You can make extra payments or payoff your loan completely at anytime with no penalty.
Our Guarantee
30 Day money back guarantee if you change your mind for any reason.
How To Purchase With Cash
Make your down payment and documentation fee via credit/debit card.
You will electronically receive a Land Sale Contract for your review through SignNow.
Review and sign the documents online.
We sign and notarize a Warranty Deed granting the property to you.
Your payment is processed via certified check or bank transfer.
When payment is received, we immediately send the deed to be recorded. Most counties will finish recording within 2 days. We send you the original deed for your records and you will receive a recorded copy from the county.
How To Purchase With Owner Financing
Make your down payment and documentation fee via credit/debit card.
You will electronically receive a Land Sale Contract for your review through SignNow.
Review and sign the documents online.
Automatic monthly payments are setup through our payment processor GeekPay. The first payment is due approximately 30 days from signing.
Your property is deeded to you with a Warranty Deed within 30 days of the property being paid in full. We will record the deed with the county, and send you the recorded deed for your records. These recording fees are already included in your initial payment.
You're Approved!
Everyone qualifies for financing. We do not require a credit check. You qualify when you submit the down payment and documentation fee. Reserve this property today by clicking the "Reserve Now" button above or by contacting us to make a down payment.