Sold
Sangre De Cristo Ranches – 5.10 Acres – APN 70200660
Perfect spot for a cabin with stunning mountain views.
Payment Options
Payment Note(s)
Monthly payment INCLUDES Annual Taxes and a $2/mo loan service fee when financed. You can make extra payments or payoff your loan early with no prepayment penalty.
Want a different payment period? We can customize the financing term to whatever works best for you, between 12 and 72 months. We are currently offering 12 months same-as-cash on all properties!
Ready to purchase this land? Click the "Reserve Now" button for any of the payment options. You will be redirected to our secure payment page to make part of the down payment.
Description
Perfect Spot for your Dream Colorado Cabin
Please check out the drone video and photos we just took showcase the amazing 360 degree views of this property.
Located in the heart of the majestic Rocky Mountains, this pristine land parcel offers unparalleled natural beauty and endless possibilities. With over 5 acres of land that includes panoramic views of the surrounding mountains, this property is a nature lover's dream come true.
The land is zoned estate residential, making it an ideal location to build your dream mountain home. With ample space and privacy, you can create a secluded oasis that is tailored to your individual needs and desires. Power is located just across the street at only 1500 feet away making this the perfect opportunity to build a dream estate.
In addition to residential use, this land is perfect for recreational activities such as hiking, camping, and hunting. With abundant wildlife and miles of trails, you can enjoy the great outdoors all year round.
Located just a short drive from charming local shops and restaurants, this property offers the perfect combination of seclusion and convenience. Don't miss your chance to own a piece of paradise in the Rocky Mountains!
This great spot in the foothills of Sangre de Cristo mountain range is perfect for recreational activities like Trinchera Blanca Ranch, ATVs, hiking and world class trout fishing in the nearby Mountain Home Reservoir. Come to your little slice of paradise for a weekend of camping under the star-filled sky. Or build your dream home and stay for a lifetime, with the powerful presence of 14,000-foot peaks standing watch over you on all sides. You're off grid in nature but only a few miles from everything you need in the historic town of Fort Garland. The mountains and the great outdoors are calling your name… Are you finally ready to answer? Give me a call today!
Sangre de Cristo Ranches (SDCR)
If you're looking for the great outdoors, clean air, and wide-open spaces, the Sangre de Cristo Ranches are about as good as it gets. In the foothills of the Sangre de Cristo Mountains, you will be surrounded by priceless views of the Rocky Mountains, with Mt. Blanca (14.3K feet) and Trinchera Peak (13.6K feet) hovering above you.
Your days will be as full as you want them to be. Spend hours hiking, hunting, fishing, and watching nature during the day. While relaxing after a hearty dinner, enjoy the sunset that is often a beautiful red color on the Sangre de Cristo Mountains, which inspired their name, which means Blood of Christ. After the sun is down, you'll likely be content just gazing at the incredible night sky as you are re-introduced to just how many stars there are – and how bright they can be without city light pollution.
The lots in Sangre de Cristo range in elevation from 7,900 to 12,000 feet, with a variety of terrains from rolling to hilly to mountainous. Vegetation at the lower elevations consists mostly of sagebrush and Piñon, with taller varieties of pine being prevalent above 9,000 feet. The community contains some full-time residents combined with a lot of empty land whose owners use it for occasional camping and recreation. There is no problem with overcrowding around here! The roads are maintained by Costilla County and are accessible by cars and trucks in all but the most extreme weather conditions.
Wildlife is abundant in this area, whether for viewing or for hunting. There is a Greenbelt with over 5,000 acres set aside to the public for hunting and other forms of recreation. Elk are common, with roughly 7,000 head in the local herd, and highly sought after by avid hunters. You'll also see plenty of deer, antelope, and other animals roaming the region. This is outdoor recreation at its finest. There is even a new ski area opening up an hour away, Cuchara Valley Resort.
The region begins just 6 miles southeast of the historic town of Fort Garland, "the gateway to the San Luis Valley." At the intersection of US Highway 160 and Colorado Highway 159, Fort Garland is home to services like a post office, gas stations, a grocery store, and several restaurants. A half hour west from there is the larger hub of Alamosa, which offers a university, hospital, restaurants, grocery stores, Home Depot, Walmart Supercenter, and an airport. As natural and rustic as the Ranches may be, you won't be too far away from modern necessities and conveniences.
Resources:
Costilla County Website – Zoning, Permits, Taxes, etc. (Link)
Colorado Division of Water Resources – Well Permits, Licensed Well Drillers, etc. (Link)
Free Visitors Guide – Information on Hunting, Camping, Fishing, etc. (Link)
Trinchera Ranch – Lodging, Fly Fishing, Mountain Biking, Hiking, etc. (Link)
Local Attractions
Mountain Home Reservoir (Link) – 7 min (2.6 miles)
Smith Reservoir (Link) – 25 mins (12 miles)
Trinchera Ranch (Link) – 6 min (2.0 miles)
Blanca Peak (Link) – 30 min (16 miles)
Great Sand Dunes National Park (Link) – 39 min (33.9 miles)
Closest Towns
Fort Garland, Colorado 81133 – 13 mins (7 miles)
Blanca, Colorado 81133 – 18 mins (12.2 miles)
San Luis, Colorado 81152 – 20 mins (18 miles)
Alamosa, Colorado 81101 – 36 mins (31 miles)
La Veta, Colorado 81055 – 41 mins (37 miles)

Property Information
Nearest Cities
Fort Garland
Address
Fort Garland, CO 81133
Legal Description
Lot 11, of Block 7, of SANGRE DE CRISTO RANCHES, INC., Unit No. A-1
Features
Coordinates
37.3650, -105.4259
Zoning
Estate Residential (ER)
Additional Property Details:
Power:
Extend existing power lines to the property. Common alternatives are solar, wind, or generator. Power very close by! Located only 1,500 ft away on County LN 6.
Water
Would be a well, or water haul + holding tank (or other similar option.)
Sewer
Would be by septic system
Zoning
Vacant Land/Residential – Site built home 600sqft min, manufactured homes are acceptable. Camp for 14 days (every 3 months); long term camping/rv permit available (60 days – with up to 3 renewals, $200 fee – septic & water required); Temporary RV Occupancy permit available ($250 fee – good for 90 days at a time while building, renew for up to 18 months). Please contact Costilla County Planning & Zoning at ‭(719) 937-7668‬ for additional information.
HOA & Protective Covenants
Joining the Sangre de Cristo Ranch Owners Association is "optional" for residents and landowners. When joining the community, dues are required in the form of a small fee every year. Benefits of membership include:
Voting privileges
Access to the Semi-Annual Newsletter
Admission to community-sponsored events
Eligibility to assist or become a Board Executive member
Updates on changes in the community
Annual dinners
Participation in Dumpster Days
As a member you will support your land, and community, by providing protection, beautification, and assistance with programs such as Meals on Wheels, Crime Stoppers, County Initiatives, and many other future activities. To become a member of the SCRO, you are required to complete and submit this form. You can also join the SCRO official Facebook group.
Link to PDF of SDCR Covenants: SDCR
Property Boundaries (Lat/Long Coordinates)
37.3650, -105.4259
37.3649, -105.4245
37.3636, -105.4261
37.3635, -105.4246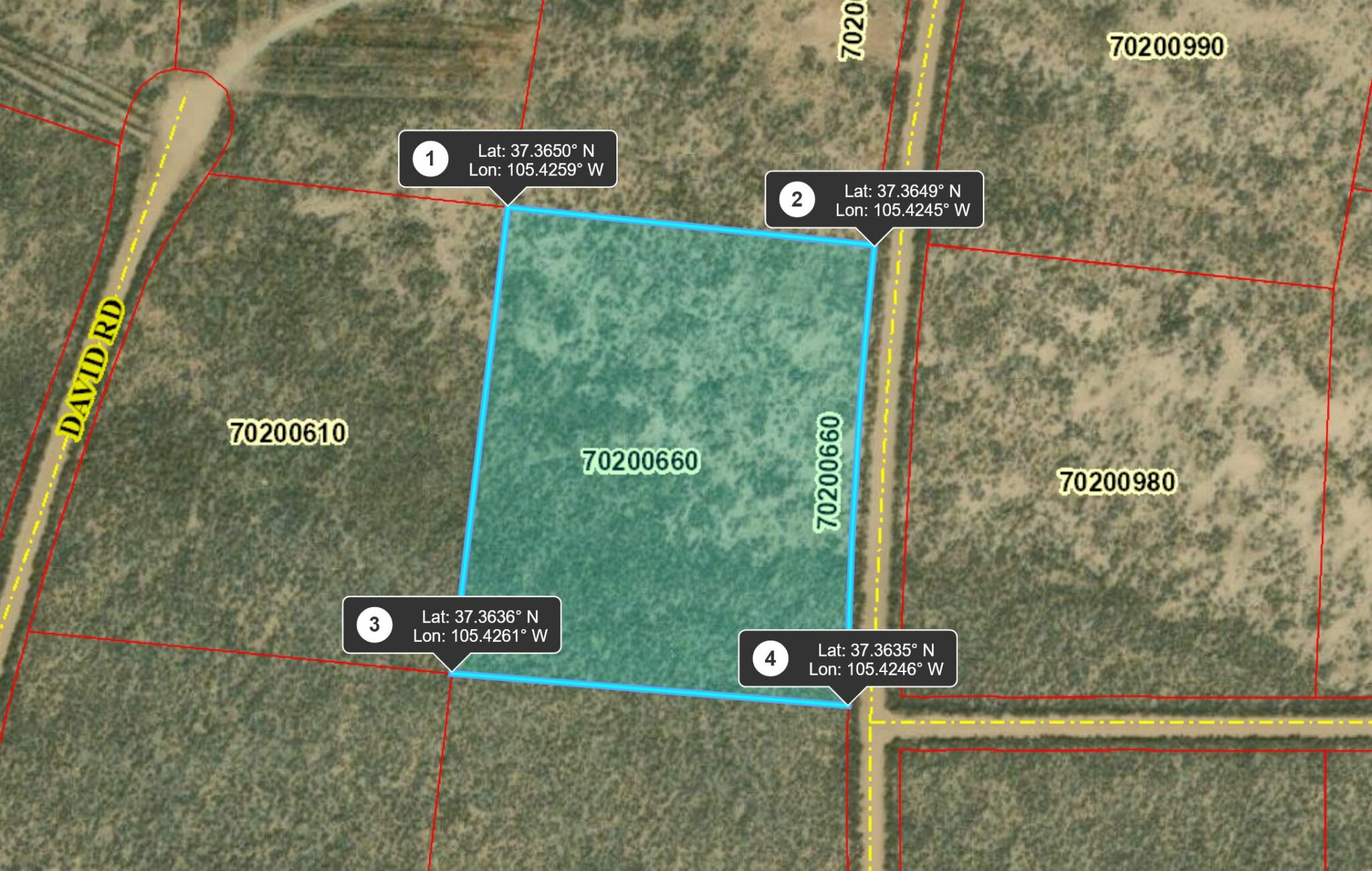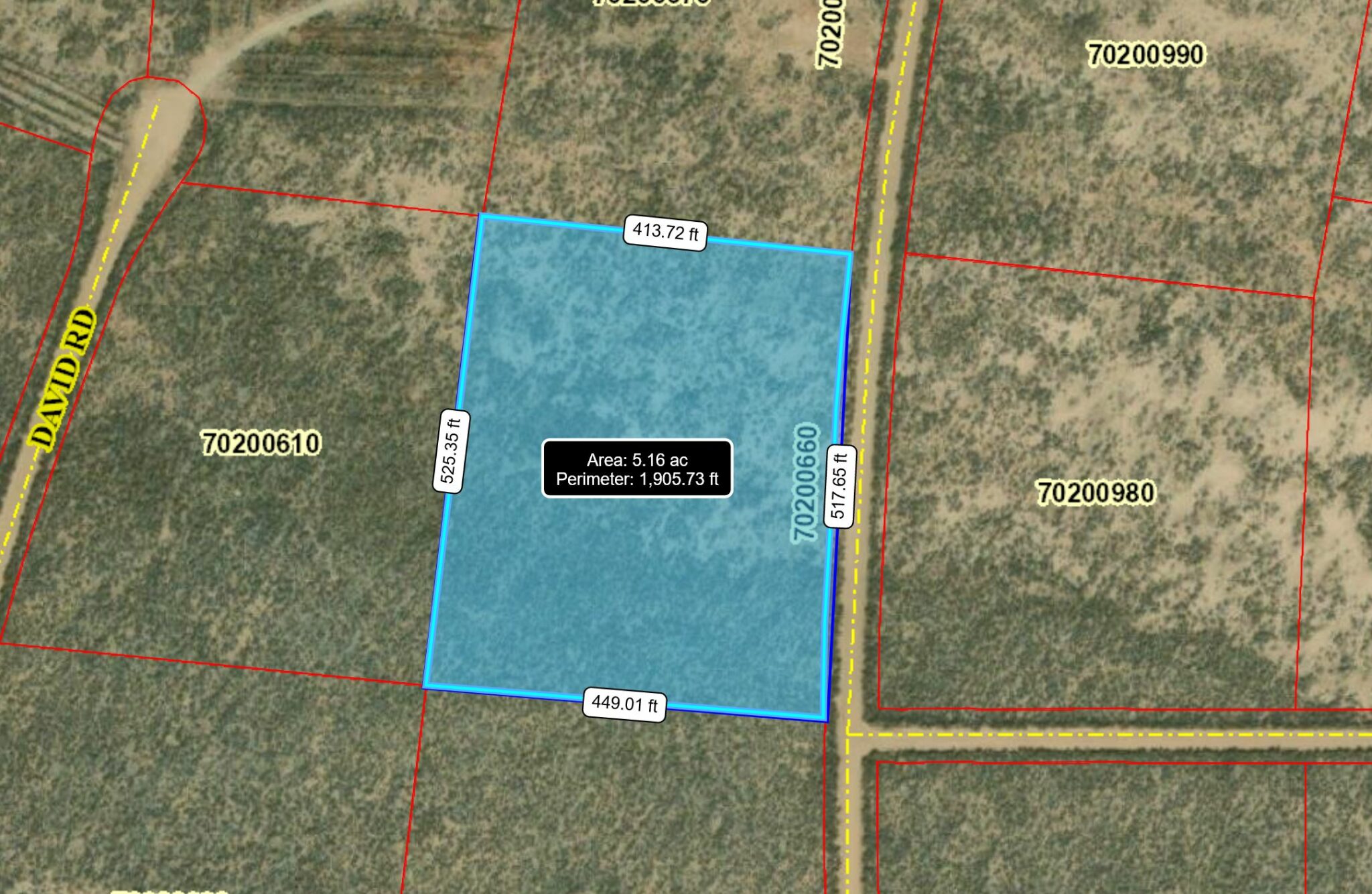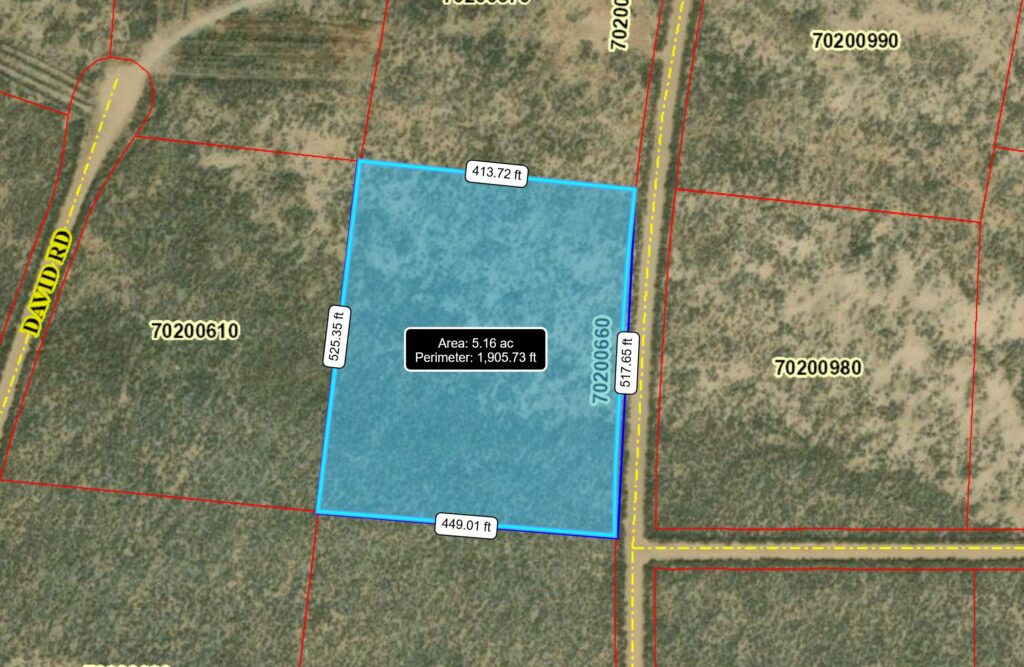 Purchase Information
Clear Title
Clear and marketable title is guaranteed with every property we sell. There are NO back taxes, liens or outstanding HOA dues on any of our properties.
Financing
Annual Taxes and a $2/mo loan service fee are included in the monthly payment when financed. You can make extra payments or payoff your loan completely at anytime with no penalty.
Our Guarantee
We allow an inspection period of 30 days from date of down payment. If, for whatever reason, you are unsatisfied with the property, then you may apply all previous payments and fees to the purchase of any other property currently for sale in our portfolio.
How To Purchase With Cash
Make your down payment and documentation fee via credit/debit card.
You will electronically receive a Land Sale Contract for your review through SignNow.
Review and sign the documents online.
We sign and notarize a Warranty Deed granting the property to you.
Your payment is processed via certified check, bank transfer or online escrow company (SafeFunds.com).
When payment is received, we immediately send the deed to be recorded (takes 2-3 days). We then send you the original deed and copy of the recorded deed for your records.

NOTE: Buyers also have the option to close with Southwest Title in Alamosa, CO. (fees apply)
How To Purchase With Owner Financing
Make your down payment and documentation fee via credit/debit card.
You will electronically receive a Land Sale Contract for your review through SignNow.
Review and sign the documents online.
Automatic monthly payments are setup through our payment processor GeekPay. The first payment is due approximately 30 days from signing.
Your property is deeded to you with a Warranty Deed within 30 days of the property being paid in full. We will record the deed with the county, and send you the recorded deed for your records. These recording fees are already included in your initial payment.
You're Approved!
Everyone qualifies for financing. We do not require a credit check. You qualify when you submit the down payment and documentation fee. Reserve this property today by clicking the "Reserve Now" button above or by contacting us to make a down payment.