Sold
San Luis Valley – 20 acres -10014371
Costilla County, CO
Payment Options
Payment Note(s)
Want a different payment period? We can customize the financing term to whatever works best for you, between 12 to 72 months.
Ready to purchase this land? Click the "Reserve Now" button for any of the payment options. You will be redirected to our secure payment page to make the down payment.
Our Satisfaction Guarantee lets you buy without worries. If you change your mind for any reason, all your payments are fully refundable for 30 days after purchase.
Property Description
Check out this vast 20-acre gem in San Luis, Colorado. This property is nestled in a prime location perfect for those who love mountain views and all the San Luis Valley has to offer. These 20 acre parcels are getting harder to come by so grab it while it lasts…because it won't last long. Check out our owner financing options below or give me a call to learn more about this amazing property.
San Luis Valley
This is a special place, where "the Great Outdoors" truly comes to life. Located in the sunny high desert of the San Luis Valley in southern Colorado, just west of Wild Horse Mesa (which takes its name from the bands of wild horses that roam the private lands to this day.) These mustangs are descendants of the horses brought to North America by the Spanish Conquistadors as they explored the great western territories. Properties in Wild Horse Mesa are blessed with stunning views in all directions of the San Juan, La Garita, and Sangre de Cristo mountain ranges.
Inhabited by native Americans for over 10,000 years, the area is now home to farmers and ranchers whose families have been there for generations. Local farms grow such crops as potatoes, wheat, beans, carrots, and lettuce, as well as raising cattle, sheep, and goats. Besides horses, wildlife in the Mesa also includes an abundant supply of deer, elk, antelope, eagles, black bears, and bighorn sheep.
Located about 12 miles south of San Luis, the oldest town in Colorado, this area is steeped in history, with the Old Spanish Trail running along the east side of Wild Horse Mesa, and even old legends of the mesa being haunted. Also on the eastern border is the Sanchez Reservoir, a state wildlife area with a 4-mile long, 2,000-Acre lake offering top-notch fishing for pike, trout, and catfish, as well as some great bird-watching of geese, loons, swallows, and many more. This area is remote enough to give you all the fresh air, privacy, and independence you desire, but close enough to civilization to allow you to access services you need. Claim your slice of paradise in San Luis today.
Resources:
Costilla County Website – Zoning, Water, Taxes, etc. (Link)
Free Visitors Guide – Information on Hunting, Camping, Fishing, etc. (Link)
Local Attractions
Rancho MadiSceneOh – 10 min (7.6 miles)
Main Street Park – 15 min (14.4 miles)
Shrine of the Stations of the Cross – 15 min (14.5 miles)
Rito Seco Park – 30 min (23.6 miles)
Fort Garland Museum & Cultural Center – 30 min (29.9 miles)
San Pedro Mesa HP – 31 min (9.7 miles)
Scenic spot – 34 min (34.1 miles)
Amarok Sailing Charters – 43 min (41.3 miles)
Closest Towns
Fort Garland, Colorado 81133 – 31 mins (30 miles)
San Luis, Colorado 81152 – 16 mins (13 miles)
Alamosa, Colorado 81101 – 57 mins (53 mins)
Property Information
Address
SAN LUIS, CO, 81152
Legal Description
E2NE4NW4 SEC 14-1-73 20 AC
Features
Dimension
635.40 x 1,303.54
Coordinates
37.0534, -105.5302
Zoning
Estate Residential (ER)
Additional Property Details:
Power:
Work with public power utility to extend these existing power lines to the property. Common alternatives are solar, wind, or generator.
Water
Would be a well, or water haul + holding tank (or other similar option.)
Sewer
Would be by septic system
Zoning
Vacant Land/Residential – Site built home 600sqft min, manufactured homes are acceptable. Camp for 14 days (every 3 months); long term camping/rv permit available (60 days – with up to 3 renewals, $200 fee – septic & water required); Temporary RV Occupancy permit available ($250 fee – good for 90 days at a time while building, renew for up to 18 months). Please contact Costilla County Planning & Zoning at ‭(719) 937-7668‬ for additional information.
Property Boundaries (Lat/Long Coordinates)
37.33010, -105.3883
37.33009, -105.3875
37.32999, -105.3873
37.32840, -105.3872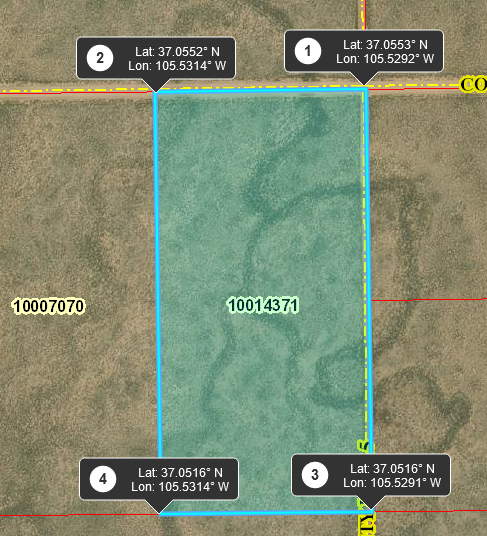 Location
Purchase Information
Clear Title
Clear and marketable title is guaranteed with every property we sell. No back taxes, liens or outstanding HOA dues.
Financing
Annual Taxes and a $2/mo loan service fee are included in the monthly payment when financed. You can make extra payments or payoff your loan completely at anytime with no penalty.
Our Guarantee
30 Day money back guarantee if you change your mind for any reason.
How To Purchase With Cash
Make your down payment and documentation fee via credit/debit card.
You will electronically receive a Land Sale Contract for your review through SignNow.
Review and sign the documents online.
We sign and notarize a Warranty Deed granting the property to you.
Your payment is processed via certified check, bank transfer or online escrow company (SafeFunds.com).
When payment is received, we immediately send the deed to be recorded (takes 2-3 days). We then send you the original deed and copy of the recorded deed for your records.

NOTE: Buyers also have the option to close with Southwest Title in Alamosa, CO. (fees apply)
How To Purchase With Owner Financing
Make your down payment and documentation fee via credit/debit card.
You will electronically receive a Land Sale Contract for your review through SignNow.
Review and sign the documents online.
Automatic monthly payments are setup through our payment processor GeekPay. The first payment is due approximately 30 days from signing.
Your property is deeded to you with a Warranty Deed within 30 days of the property being paid in full. We will record the deed with the county, and send you the recorded deed for your records. These recording fees are already included in your initial payment.
You're Approved!
Everyone qualifies for financing. We do not require a credit check. You qualify when you submit the down payment and documentation fee. Reserve this property today by clicking the "Reserve Now" button above or by contacting us to make a down payment.